All the stories & wishes from those who love you most in one place.

---
Your Keepsake Wedding Video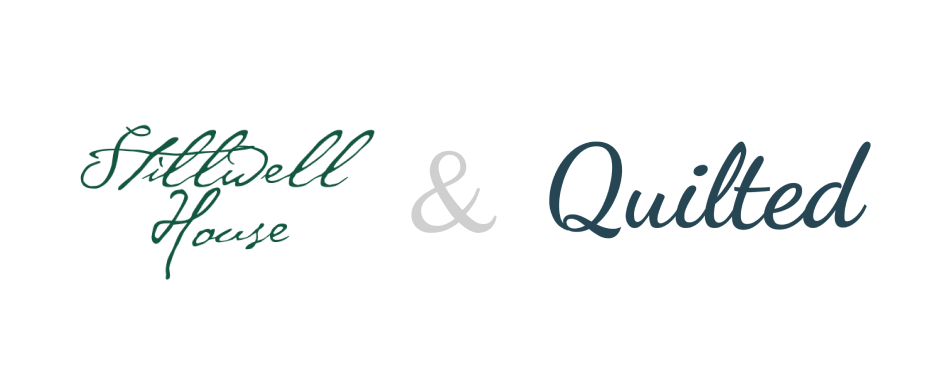 Use Quilted to invite up to 200 friends and family to record a few short videos. These clips then get stitched together and compiled into one keepsake movie that can be shared with all. It's a perfect alternative to a basic wedding guestbook and a great way to help everyone share their wishes whether they are able to join you for the big day or not.
Get Exclusive pricing through Stillwell House
Don't pay anything until you are ready to download your final movie!
$499
$299
Digital Guestbook Benefits

Collect videos & photos from all of your guests, as well as those unable to attend.
Add to the invitation, guestbook, signage and more to easily collect content during all of your festivities!
No more chasing down videos across social and text. Collect the stories that mean the most in one place.
Personalized Printable QR Code
As part of your Quilted Wedding Guestbook Video package, you'll receive a personalized, unique printable QR code making it fun and easy for your loved ones to share videos along the way during the entire wedding celebration! Guests scan the QR code to be immediately directed to the Quilted Wedding Story dashboard to answer a few short prompts so their well wishes and favorite stories and memories of the couple are all saved in one spot.
Printable QR Codes are perfect for:
Bridal shower invitations

Wedding registry or website

Engagement party and shower signage

Bachelorette and bachelor party invites

Wedding guestbook table

Table centerpiece signage

And more - get creative!
Choose from our hand-crafted set of prompts that help bring out some of the best stories, memories and well wishes for your big day that might otherwise go untold. Or, personalize your own!
"Tell the story of how you met the lovely couple to be wed."
"What is your best piece of advice for the newlyweds?"
"Share your favorite part of the wedding so far!"
All your loved ones' videos in one place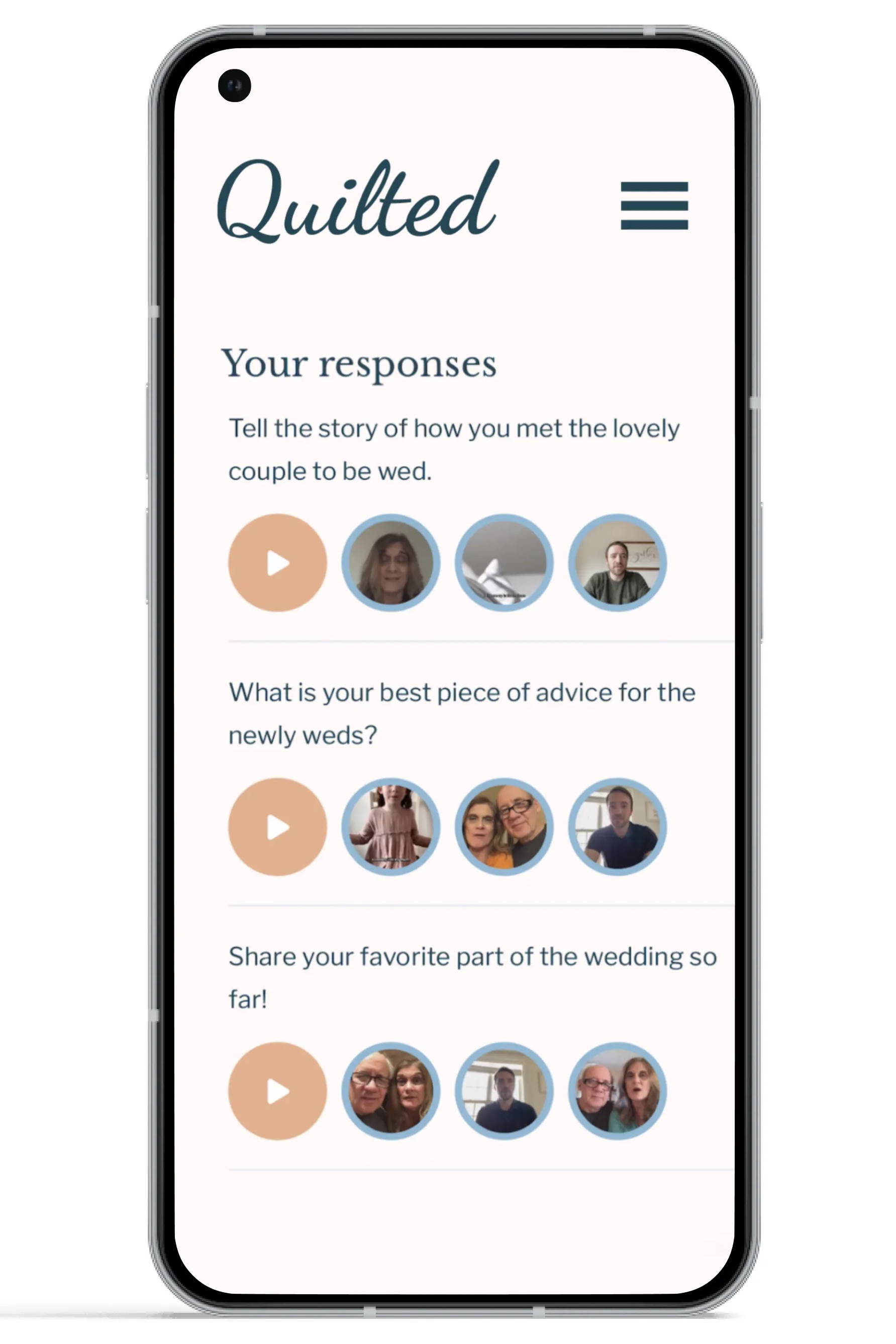 You'll be able to access all of your guests' video clips from within your dashboard. No more hunting down videos on social media. Once you've received all of your responses, you can submit for your final movie, and we'll take care of the rest.

"The stories my dad has recorded are amazing and I cannot wait to get a finished product. So many little gems my kids and grandkids might not ever know without you guys!"

"A memory to last a lifetime"

"I will officially sing your praises forever! I will share your incredible app with all I know. My thank you is boundless. I so appreciate your entire team."
Frequently Asked Questions
Digital Guestbook Process & Features
How does the wedding video guestbook process work?
To create your digital guestbook, you'll need to enter a few details like the guestbook's purpose, due date for submissions, a creative title, and select from a list of pre-written prompts/questions or create your own. You'll then send invites to your guests or display your personal QR code on your wedding day. After your wedding, submit a request for your final movie. Our team will compile the submitted videos and photos into a keepsake movie within three business days.
What is the recommended length for each video clip?
There is no specific recommended length for each video clip, but keep in mind that shorter clips will make the final video more dynamic and easier to watch.
Can guests submit more than one video message?
Guests will receive an invitation with a link (via email or SMS) or access your digital guestbook using your QR code on the wedding day. They will record videos or upload photos in response to the prompts you've set.
Will there be any professional editing involved in creating the final keepsake movie?
Yes, our professional video editors will trim out any unnecessary silence, restore broken or hard-to-hear audio, layer background music, and incorporate any special requests you may have.
Can we choose the order in which the video messages appear in the final movie?
Yes, you can specify the ordering of videos or any other special requests when you submit for your final video.
Can we include photos, music, or other media in our keepsake movie?
You can include photos and other media in your final movie. However, we only use music from our own library due to copyright issues.
What is the deadline for guests to submit their video messages?
You will choose the deadline for submissions and can adjust it if you're waiting on anyone you'd like to include.
What video formats are supported for guest submissions?
We accept all standard video formats.
What is the cost of creating a wedding video guestbook, and are there any additional fees?
The cost of our wedding digital guestbook is $500 with no extra fees or hidden costs.
Participation & Accessibility
How do guests record and submit their video messages?
Guests will receive an invitation with a link (via email or SMS) or access your digital guestbook using your QR code on the wedding day. They will record videos or upload photos in response to the prompts you've set.
Can guests edit or re-record their videos if they're not satisfied with the initial recording?
Guests can watch their video responses before submitting and re-record if needed.
Can guests participate in the video guestbook if they are unable to attend the wedding?
Yes, guests can participate whether they attend the wedding or not, making it perfect for those who want to wish you well but can't attend.
Is there a mobile app available for guests to record and submit their videos?
There is no mobile app for our platform, so guests can easily access your digital guestbook link without needing to download an app.
How can we share the final keepsake movie with our friends and family?
Your final movie will be available to watch on your digital guestbook link, so only people with the link can view the video.
What if there is no WiFi or cellular connection at the event?
If WiFi or cellular connection is poor or your wedding is off the grid, be sure to share the URL out before and after your wedding! It'll be live for 1 week following the big day to collect video shout outs, and photos from your wedding.
How do you ensure the privacy and security of our video messages?
Your guests' video submissions are kept private and will only be seen by our professional video editors. Your final movie will be viewable on your digital guestbook link, but you can request to have it removed after downloading if you want to keep it completely private. For more information on privacy and security, please refer to our privacy policy.
Can we order a physical copy of the keepsake movie on DVD or other media?
We do not currently offer physical purchases, but will in the near future.
QR Code, Sharing, & Inspiration
How can I ensure the best print quality for the QR code, and what are the recommended dimensions for scaling the QR code to ensure easy scanning by guests?
To ensure the best print quality for the QR code, we supply you with a high-resolution image file to avoid pixelation. The recommended minimum size for the QR code on any printed materials is 1.2 inches by 1.2 inches (3 x 3 cm) to ensure easy scanning by guests. Make sure the QR code is printed clearly with sufficient contrast between the code and the background, and avoid placing it in areas with low lighting or glare.
Can you provide suggestions for incorporating the QR code into our wedding decor, such as signage, video screens, or other unique display ideas?
- Create a stylish and elegant sign with the QR code displayed prominently, along with a brief explanation of how to use it ("Scan here to upload videos and photos to our digital guestbook!"). Place the sign near the entrance, on guest tables, or at the bar.

- Print the QR code on your wedding program or menu, allowing guests to easily access the digital guestbook during the event.

- Display the QR code on video screens or digital photo frames at the reception, along with a slideshow of pictures and a short message about the digital guestbook.

- Incorporate the QR code into table decorations, such as centerpieces, table numbers, or custom coasters.

-Add the QR code to your wedding favors or thank-you cards so guests can contribute even after the event.
What are some tips and ideas for sharing the digital guestbook link with our guests at various stages of the wedding process to encourage participation and engagement?
Before the wedding:
- Include the digital guestbook link or Qr code in your save-the-date announcements, wedding invitations, or RSVP cards.
- Share the link on your wedding website or social media pages, and encourage friends and family to participate in advance
During the wedding:
- Display the QR code prominently at the wedding venue using signs, video screens, or other creative methods (See last question)
-Make an announcement during the reception, reminding guests about the digital guestbook and how to access it.
After the wedding: 
-Share the digital guestbook link in your thank-you emails or cards, giving guests another opportunity to contribute if they haven't already
- Post the link or QR code on social media, along with a few highlights from the wedding, to encourage additional participation from guests who may have missed the opportunity during the event.